About Us
COMPANY HISTORY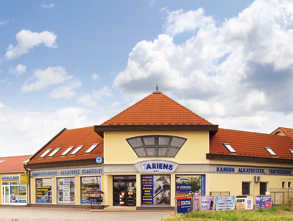 Zoltán Dobszai and his father, Ferenc Dobszai established the company as a family enterprise in 1991. Initial profile of the company – premises in Soltvadkert – was retail trade of parts for contemporary trucks. In the early period our stock mainly came from domestic providers and wholesalers. The first two years of operation was a far successful period as the three-member staff achieved excellent results. Therefore, Variens Ltd. could buy the premises, which was hired till that time. Our range of activity has significantly extended from 1993. The wholesales of types, which were only retailed until that time, started, and then a related nationwide resellers' network was developed.
The import activities of the company were launched this year, mainly with parts bought from Germany and Czech Republic.
The company had already three premises in 1997; the number of employees increased to 20; the import activity increased to trading with several European and overseas countries.
1998-1999 is a significant date in the life of company in many aspects. Continuous extension of our profile took place in this period. Besides keeping the existing product groups, our company became the representative of several foreign manufacturers and started dealing with parts of trucks (MAN, MB, Volvo, Scania, Iveco, DAF…) and buses (Ikarus, MAN, MB, Volvo).
The ISO 9002 quality assurance system was launched in 1999, which helped to control the internal processes of the company more efficiently, ensuring this way the further increase of our client's satisfaction.
By this time the organization of our company reached the present form and established the following three divisions:
1. Commercial vehicle parts business line
2. Bus parts business line
3. Representations business line (representation of foreign companies in Hungary)
Variens Ltd. bought 100% ownership of Interex '91 Ltd.,Budapest. The main activity of Interex '91 Ltd. is distributing gear-boxes and differential gear parts.
Data about Variens Ltd.:
Seat: H-6230 Soltvadkert, Kiskőrösi út 1.
Further premises:
H-1095 Budapest, Soroksári út. 150.
H-9027 Győr, Almafa u. 7.
H-6100 Kiskunfélegyháza, Bajcsy-Zs. u. 17.
H-8800 Nagykanizsa, Petőfi S. u. 116.
H-8900 Zalaegerszeg, Sport u. 3.
H-8000 Székesfehérvár, Kálmos u. 2.
Number of employees: 36
Owner: Zoltán Dobszai
Bank details: OTP 11732181-20030054-00000000
Tax No.: 10517954-2-03
EU tax No.: HU 10517954
Registration No.: 03-09-100447